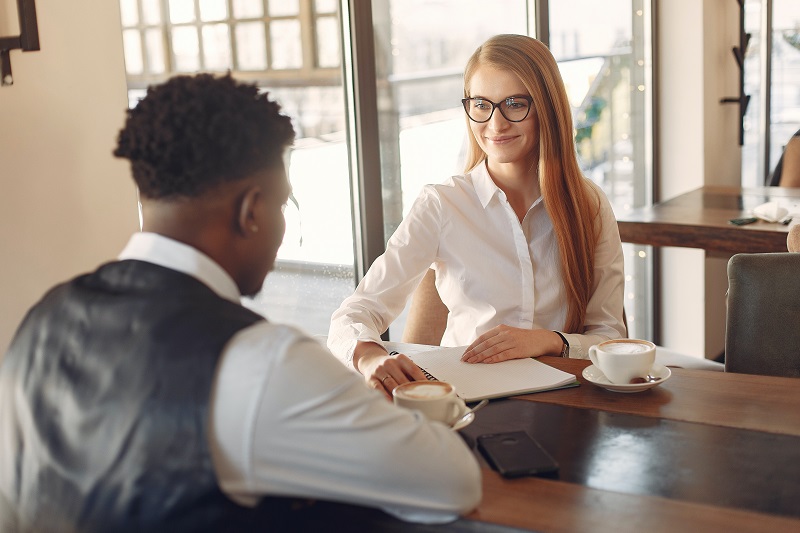 Interview transcription services are useful for professionals in many different fields but particularly lawyers, business managers and entrepreneurs, insurance adjusters, and academics. Companies often conduct interviews for new hires for large meetings, podcasts, or webinars. Academics and insurance investigators conduct interviews for research. And lawyers conduct interviews of clients and in depositions. Organizations and individuals conduct interviews regularly, and as such, keeping track of the content of those interviews becomes more challenging.
Preferred Transcriptions can provide you with interview transcription services to help you save time, store information, and ensure your transcripts are as high-quality as possible.
Why You Should Transcribe Interviews
Interview transcription benefits you and your professional organization in a variety of ways. Transcription helps you catch every detail the first time around, making content instantly actionable, and transforming content into something searchable.
Catching All of the Details At Once
Transcriptions catch all of the interview details in a single session. An audio recording of an interview captures all spoken, more than written notes can. Some interviewers may only focus on writing broad, high-level notes to save both time and to keep the interview going. Because of the more time-intensive note-taking process, interviewers can find themselves needing to follow-up on certain details after the interview is over. Recording and transcribing an interview simplifies that process, giving interviewers all of the points the first time around.
Instantly Actionable Content
A written transcript can be immediately implemented or utilized in projects or workflows. For example, say a business conducts an interview with a high-profile consultant and wants to use the contents of the interview in new marketing materials. With a recording, the marketers may need to listen to the interview repeatedly to find the desired material.
With written notes, the business may need to follow-up with the consultant for clarification. If the business has an interview transcript, ideas, quotes, and everything else said can be quickly used in marketing materials, allowing the business to focus on the more creative side of marketing.
Transforming Content into Something Searchable
A transcription of an interview allows you to search for keywords or specific information, which is very valuable in academic research, legal consultations, and even in HR interviews. For example, an HR professional interviewed 12 prospects but cannot remember which one worked at Company M. A quick scan can reveal the candidate. Interview transcripts can also improve your business's search engine rankings and can lead to higher traffic. For instance, if you are publishing a video interview, search engines such as Google are currently unable to crawl and understand the content of videos. A transcript can be full of keywords and relevant information that helps Google find and rank your content. The improvement in search engine rankings leads to increased traffic and visibility. If your business is looking for more traffic, and you regularly conduct interviews, transcripts are the solution.
The Benefits of Interview Transcription Services
Now that you recognize the benefits of transcribing interviews, your organization can additionally gain those benefits by taking advantage of companies who transcribe interviews for you.
Save Time and Money in the Long-Run
Interview transcription services save time and money over do-it-yourself transcription in the long-run for both businesses and professionals. Transcribing one hour's worth of audio recordings can take roughly four hours, even more for those inexperienced or untrained in transcription. Spending that much time on transcribing interviews is inefficient, especially for those who routinely conduct several, dozens, or even hundreds of interviews. Thus, if you want the benefits of interview transcripts while saving time and money, transcription services are the way to go.
Store Information for Easily Accessible Information
Storage and accessibility is another aspect of interview transcriptions and why so many businesses use them. An academic rereads interview notes or listens to recordings to analyze or incorporate information for research. Companies spend time evaluating new hires after conducting interviews. Both of these scenarios are instances of professionals going back to their interviews to analyze better and utilize the content of said interviews. An already lengthy process becomes even more time-consuming for professionals transcribing the interviews themselves. With interview transcription services, all of this critical information is stored in an easily accessible manner to use whenever deemed necessary.
High-Quality Transcripts
Another benefit of using interview transcription services is that the transcripts will be of a higher quality. Transcriptions take time to create, and quality transcriptions more so. The best way to ensure transcripts are high-quality is by working with skilled, experienced transcriptionists. A transcription service company will have skilled, professional transcriptionists who can produce quality work in both a time and cost-effective manner. Accurate dictation, speaker identification, and timestamps are a few elements that elevate a transcript from merely useable to an accessible, easy-to-read document. The quality work received from interview transcription services means that transcripts are highly accurate and easily readable.
Interview Transcription Services for Various Industries
Academics
Audio recording and transcriptions help academics in a variety of ways. In transcribing research interviews, for example, in-depth interviews for research can take hours just by themselves. Spending time transcribing the talk or consultation leads to less time analyzing or incorporating the content of the interview. By outsourcing the transcription work to a dedicated company, academics can better spend their time on specialized tasks, saving both time and energy, and leading to more effective research.
Businesses and Human Resources
Businesses interview many people for many different reasons, such as job interviews or promotional material. These interviews contain essential information that will most likely need to be recalled or pulled from later on. Transcriptions help with that, giving businesses an accurate and objective record of the data which can be stored and always available. A transcribed document provides a resource and a guide for all information gathered from a particular interview.
Legal
Having written records of interviews can help legal professionals improve their research and perform their jobs more effectively. An appeal process, for example, can be complicated or delayed by the lack of transcriptions. And when dealing with critical information, an accurate, high-quality transcript is all the more essential. Interview transcriptions help these complex processes operate more quickly and efficiently.
Insurance Agents
The insurance industry benefits from the accuracy and reliability of interview transcription services. Insurers deal with a high volume of client calls every day and vital information to maintain records and process claims. Therefore, accuracy and reliability are crucial in helping insurers properly do their jobs. The skilled experience and high turnaround times of transcription services mean that insurers can consistently exhibit accurate transcripts, improving workflows and the quality of reports.
Our Interview Transcription Services
Preferred Transcriptions has been a trusted transcription company for many businesses, professionals, and organizations for many years. We emphasize speed, quality, and personalized transcription services to make your professional operations smoother and more effective.
Experienced and Accurate Transcription Services
Transcriptions are often time-consuming and complex endeavors. Transcribing the words spoken by a single person can be complicated, and recordings of several voices for extended periods make accurate transcription more difficult. Interpersonal communication contains many nuances, such as natural pauses, abrupt interruptions, and unique vocal tendencies. A transcription with accurately captured voices and conversations requires experienced and skilled transcriptionists, who have an acute attention to detail.
The team you will be working with at Preferred Transcriptions is knowledgeable, efficient, and highly experienced transcriptionists. Many team members have been with us for over a decade, and all are based in the United States.
Our transcription services are the ideal solution for business people, academics, legal, medical, and other professionals seeking a way to reduce their administrative workload and capture vital discussions, research, and web content while maintaining quality and speed.
Personalized Service to Meet Your Needs
Whether your interviews are for small or large projects, our team is equipped with the solutions to satisfy your transcription needs. Professionals from all fields are happy to know that we never upcharge for transcription of more than one speaker, saving money for our clients. Our transcriptionists are proficient in the specialized knowledge and vocabulary associated with numerous industries and fields of study, and we gladly accommodate any transcript formatting or template needs.
Interview Transcription Services with Speed and Convenience
At Preferred Transcriptions, we recognize that our clients value their time and money, and want to make the best of use of those two items. As such, our clients can take advantage of our convenient dictation options to meet their transcription needs. One of these options includes 24-hour access to our web-based dictation platform via smartphone, telephone, digital handheld, or any PDA device. We pride ourselves on 24-hour turnaround time while providing secure access to our clients' documents anytime, anywhere.