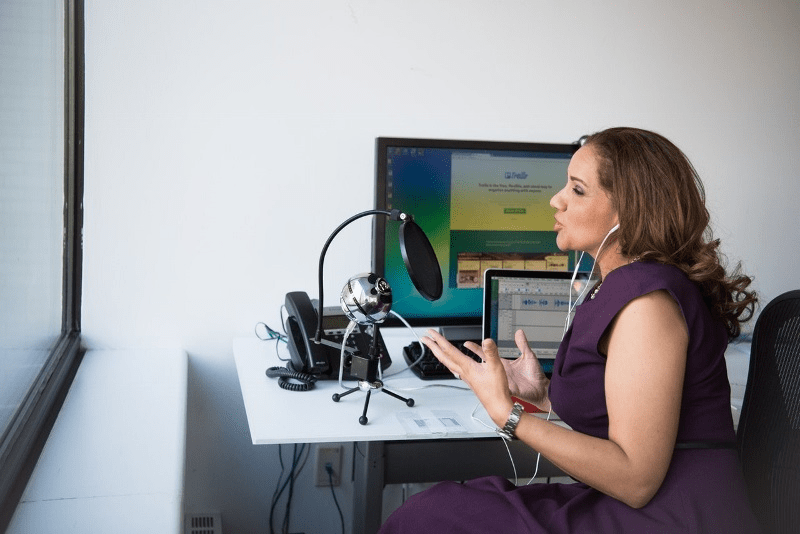 The podcasting medium has exploded in recent years, with millions of people listening to thousands of podcasts every day. Most of those listeners experience podcasts audibly, whether they are at the gym or doing chores around the house. But one other method of consuming podcasts, one that allows podcasters to reach a greater audience, is a podcast transcription. Our services can provide you with high-quality and reliable transcriptions that will help your podcast reach new audiences, improve search engine rankings, and save you time and money.
Is a Podcast Transcript Necessary?
If you produce a podcast, you need a transcript. A podcast transcript's function and purpose go beyond helping your regular listeners have a written guide to an episode's content. Some benefits, such as helping organize show notes or being able to review the content of an episode quickly, are obvious. But the benefits expand beyond that, into supporting the podcast grow, both as a show and as a brand.
Benefits of Podcast Transcription
While most podcast listeners do consume their favorite shows audibly, a transcription comes with many benefits, ranging from improved search engine optimization (SEO) to reaching previously untapped audiences.
1. Reaching New Audiences
A podcast transcription helps you reach new audiences. One significant audience is those who are hard of hearing. Dozens of millions of people across the United States are hearing impaired, and each of them has a different level of hearing disability. Some have trouble discerning subtle differences between sounds in words, while others have difficulty blocking out background noise. These hearing impairments make listening to a podcast challenging for millions of people. A transcription helps these people engage with your content in a format that is comfortable for them. English language learners are another potential audience that you can reach with podcast transcription.
Finding new listeners or viewers is a challenge for any media entrepreneurs and organizations, and people with hearing impairments or English language learners are often underserved markets. Transcription gives you the opportunity to market your content and your brand to these audiences, and establish more listeners and connections.
2. Marketing Opportunities
Transcriptions also give you more content and resources to use as marketing materials. For example, if your newest podcast episode revolves around interviewing, and the interviewee has a particularly insightful or engaging quote, that quote can market your latest episode. You can take excerpts from the recording and use them across social media channels, email newsletters, and other publishing platforms besides your website or blog post.
Other marketing materials such as e-books, reports, guides, and mini-courses, can all use transcript excerpts, too. A podcast is just one part of an overall marketing strategy, and a transcript gives you more options and tools to help improve that strategy.
3. Search Engine Optimization
Search engines such as Google crawl through and examine millions of websites a day, trying to find content that best answers their users' questions. However,  one limitation of search engines is that they search for text, such as the metadata and content of a page over spoken words. Google Podcast has begun automatically transcribing podcasts, but errors are common in those, so if you want to improve your podcast's standing in Google rankings and get more listeners, a podcast transcription is highly beneficial.
Google looks for specific keywords when crawling a site, and a transcript is likely to have several keywords and phrases. Transcripts improve your discoverability by focusing on the right keywords, content structure, and topics. With the podcast medium exploding and becoming more competitive by the day, every advantage you can find counts, and a full transcription can grant your podcast a competitive advantage in Google rankings.
4. Saving Time and Money
Transcribing your own podcast sounds easy enough on paper, but is quite tricky and challenging in reality. If your podcast routinely has interviews, for example, you need to be able to clearly understand the vocal habits of your guests, typing the transcription, all within a cost-effective time. Transcribing is a skill, one that takes years of practice and training to develop. And your time would be better spent on other podcasts and business ventures. An experienced transcriptionist can deliver your podcast transcriptions with both speed and quality, saving you time and money.
Our Podcast Transcription Services
Preferred Transcriptions promises guaranteed accuracy and a commitment to excellence when transcribing your podcast. Our team of trained transcription professionals has specializations across a wide variety of different fields and industries. We pair you with the transcriptionist best suited to execute your project based on their experience with your industry. We take the time to carefully evaluate your business, requirements, and preferences before we deliver the final product. Our process ensures that you receive an outstanding customer experience that caters to the unique needs of your project.
Preferred Transcriptions' podcast transcribing saves you resources. The time and effort you spend on transcribing speech to text and listening to the audio files on repeat can be spent on other ventures to promote your podcast. Our team's combined speed and accuracy ensure that your business saves time and resources creating transcripts. We are also proud to offer a 24-hour turnaround for most projects.
Customer Service and Support for Your Podcast Transcription
We recognize the ever-increasing popularity of podcasts for both individual entrepreneurs and businesses. So we take a proactive approach to customer service by matching each client with a specific team of transcriptionists. This team will handle all of your podcast transcription projects, ensuring that the team members begin work with a clear understanding of your industry-specific needs, voice and vocal habits, and preferences. Additionally, whenever you need to reach out to us, you will always be connected to an informed and helpful member of our team.