Why You Should Transcribe Your Podcast
You've launched your new podcast – congratulations! You're likely on the lookout for more listeners. Or perhaps you've been running your podcast for a while now and want to know how to make it more engaging. Either way, the answer is simple: transcribe your podcast.
Creating a podcast transcription will:
Make Your Podcast Searchable
Make Your Podcast Shareable
Make Your Podcast Quotable
Make Your Podcast Accessible
Make Your Podcast Flexible
5 Reasons Why You Should Transcribe Your Podcast
Here are five great reasons why you should transcribe your podcast:
1. Make Your Podcast Searchable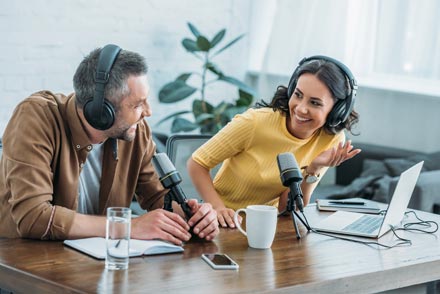 This is the top reason. Whether your podcast is new or established, you're always looking for more listeners. Transcribing your podcast will boost your search engine optimization (SEO) – that magic formula that helps you get found by Google. Audio files cannot be indexed, but the text can be indexed very easily! Providing a full podcast transcription will increase your search hits – and your number of listeners.
Bonus: the actual content in your podcast is more searchable when you transcribe your podcast. If you (or your listeners) want to go back to a particular spot in an interview from three months or two years ago, you don't have to loop through hours of audio to find the spot. Just search on a few keywords, and you'll instantly see the info you're looking for. You don't even have to remember what episode it was!
2. Make Your Podcast Shareable
You have some great content – and people want to share it. But your listeners, including other content creators, want to send their audiences to places with substance. So your podcast, as great as it is, might look a little barebone as just a link on your website. Encourage sharing by creating an "Episode Page" complete with a podcast transcription, excerpt, or synopsis.
3. Make Your Podcast Quotable
Podcasts that are easier to quote will attract more listeners, too. Often, it is a phrase or a prompt that hooks people into wanting to share your podcast link with others in their circle. However, not all will go through the trouble of typing out that quote. When you transcribe your podcast, you provide those people with ready-made quotes they can copy and paste into their own social media feeds, emails, websites, or wherever. Pro tip: create your own "pull-out quotes" and sprinkle them through the transcript to highlight quotes you think are particularly important.
4. Make Your Podcast Accessible
Millions of people are either deaf or hard of hearing. Why not make sure they can enjoy your content too? Transcribing your podcast opens it up to those who cannot listen. Not only that, many people out there would prefer to read than listen anyway, so you can also capture that audience.
5. Make Your Podcast Flexible
Remember that recording a "podcast" isn't necessarily the end goal. Your end goal, ultimately, is to share information and (perhaps) entertain. Podcasting is the vehicle you've chosen to reach that goal – but it's not the only way to convey your message. And, best of all, nothing stops you from using more than one. When you transcribe your podcast, you build yourself a new vehicle for a new audience. That flexibility will bring new listeners, allow you to cast a wider net, and ultimately be more things to more people.
How to Use Your Podcast Transcription
Transcribing your podcast is easy. Just contact Preferred Transcription, and we'll get you set up. Then, you simply upload your audio or video files to our secure servers, and then we send back your podcast transcription in a Word doc or your preferred format – usually within 24 hours. From there, you can copy and paste to your website, create excerpts and synopses, and use pull-out quotes as you wish. It's flexible, easy, and will bring you new listeners.
Call Preferred Transcription right now at 610-539-9208 or use our email form. You'll find that when you transcribe your podcast, you'll open up new worlds for your current listeners while attracting many new ones, too.